Lionet Ban (子獅子星座(ライオネット)の蛮, Raionetto-seiza no Ban) is a minor Bronze Saint in the famous Manga Saint Seiya authored by Masami Kurumada. He is one of Athena's 48 Bronze Saints and bears the constellation Leo Minor, also called Lionet.
Chronology (86)
Younger Days
Ban was introduced by Masami Kurumada in vol.1 of his manga, and first appeared in episode 1 of the anime adaptation.
Ban was one of the hundred children that received training to become a saint, due to the grand vision of Mitsumasa Kido. What he did not know, was that Mitsumasa was the father of them all which made them half brothers. So eventually he drew the ticket to train in Tanzania on the Mountain Kilimanjaro. He was one of the ten that succeeded in obtaining a cloth, in his case it was the Bronze Cloth of Leo Minor.
Galaxian Wars Arc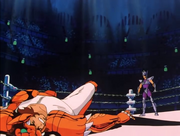 In the tournament held by Mitsumasa Kido's supposedly granddaughter Saori Kido, he started of against Unicorn Jabu. Ban fought with his Lionic behaviour but lost against the Unicorn greatly. After some time he and the other Bronze Saints that had lost in the tournament, returned to their masters and trained further.
Ban, in a panel from the manga, vol.10. Drawing by the author Masami Kurumada.
Sanctuary Arc
Ban along with Jabu, Ichi, Nachi and Geki arrived in Greece at Sanctuary in the nick of time. They fended of the Soldiers of Sanctuary that believed the goddess lived inside her temple, and stayed there until Gemini Saga had been defeated. During the battle between Pegasus Seiya and Saga he had sent his cosmo to aid the Pegasus Saint, and it proved useful for some time.
Asgard Arc
Poseidon Arc
Chronology (OAVs Hades)
Attack of the God of Death
As Seiya were fighting against the God Thanatos and his sister Seika had appeared in Sanctuary, Ban and Geki joined their comrades Jabu, Ichi, Nachi, Shaina, Marin and Kiki. They defended Seika against the god's powers but were eventually outwitted, but Seika sensed Seiya in that moment and made Pegasus able to defeat Thanatos with his God Cloth.
Chronology (Omega, anime-only)
Main Article: Ban (Omega)
Cloth
Ban's Bronze Cloth represent the constellation Leo Minor, and is made in the form of a small Lion. The constellation Leo Minor has no mythology associated to it, despite its relation to the constellation Leo.
The Anime version differs to slightly from the original, as the shoulder pads have been modified into claws, the headpiece is the face of a lion (which in the manga is visible when the Lionet Cloth is assembled and not being worn) and leg armors has appeared.
Rather than simply reproducing the image of a small lion, Masami Kurumada designed the Lionet Cloth resembling the mythical Koma-Inu, from Japanese Shinto folklore, also known in Chinese folklore as Shishi or Fo lion. This is noticeable when the Lionet Cloth is not being worn by Ban and assembled.
Predecessor and successor
Predecessor
Successor
Main Article:  Lionet Sōma
Gallery
Setteis
Notes
In Japanese, his name Ban means "Barbarian, (蛮)"
As Masami Kurumada uses the revered Osamu Tezuka's Star System technique, (A stable cast of characters which play a a different or similar role in the author's various works, sometimes with the same personality and sometimes with an entirely new one), he designed Bem's appearance, a character in B't X, very similar to Ban. B't X is a manga that Kurumada wrote and drew years after Saint Seiya, and that was later adapted to anime.
As with some Cloths, the Lionet Cloth represents a constellation that wasn't used by ancient Greeks. The Lionet constellation was added by modern astronomers in the 17th century. Masami Kurumada took some creative liberty when using the Lionet Cloth, which in his manga plotline, was created in the times of Ancient Greece.
In the beginning of the manga, Ban had a generally slim body build similar to Pegasus Seiya and the other bronze saints. When the anime premiered however, he was given a larger, bulkier build similar to Bear Geki, in order to help him stand out more. This new look eventually made its way into the manga as well.
In the manga, when the secondary Bronze Saints reappear in the Twelve Temples chapter to protect Saori, Ban uses his Lionet Bomber on several soldiers of the Sanctuary, screaming out the name of his technique. Afterward, he adds "I finally got to say a line!", an in-joke by Masami Kurumada, because he had never given Ban a dialogue line before. This manga scene was adaptaded identical in the anime, but his line was omitted since he had some dialogue before.
Ban appeared in a promo for the Saint Seiya TenkaiHen Josou Overture movie, but he was not featured in the movie.