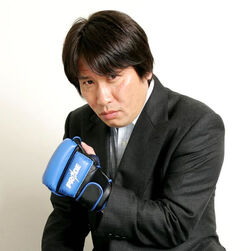 Masami Kurumada (車田 正美, Kuramada Masami), born December 6, 1953 is a Japanese manga artist and writer, known for specializing in fighting manga featuring bishōnen. He is famous as the creator/author of popular manga, such as Ring ni Kakero, Fūma no Kojirō, Saint Seiya and B't X. His male protagonists are a reflection of the classical and modern society's archetype of true men. The male characters in his works often display very masculine qualities and traits, and pursue to achieve courage and manhood perfection through sacrifice, selflessness and true heroism. He has won the best success award with Saint Seiya and the best inspiration award with Ring ni Kakero. His two manga the most famous, Saint Seiya and Ring ni Kakero, have had very great success in Japan. Some of his works/mangas were made TV series Anime, OVAs, Movies, live action, Video games, toys and very numerous Action Figures.
The 28 volumes of the Saint Seiya manga of Masami Kurumada has sold more than 35 millions copies, a huge worldwide success; Ring ni Kakero has sold more than 14 millions copies.
Background
Background of Manga Career
Personal Life
Manga Works
Otokoraku (1974) (3 Tankōbon)
Sukeban Arashi(1974-1975) (3 Tankōbon) 
Ring ni kakero (1977-1983) (25 Tankōbon)
Kojiro (Fuma no Kojiro) (1982-1983) (10 Tankōbon)
Raimei no zaji (1983) (3 Tankōbon)
Otoko zaka (1984, 6 Tankōbon)
Saint Seiya (1986-1991) (28 Tankōbon)
Aoi tori no Shinwa: 〜Blue Myth〜 (1991-1992) (1 Tankōbon)
Silent Knigth Shō (1992, 2 Tankōbon )
B't X (1994-2000) (16 Tankōbon)
Akane-Iro no kaze (1995) (1 Tankōbon)
Shin Samurai Showdown (1995, 2 Tankōbon)
Evil Crusher Maya (1996) (1 Tankōbon)
Ring ni Kakero 2 (2000-2009) (26 Tankōbon)
Saint Seiya - Next Dimension - Myth of Hades (2006-) (10 Tankōbon - ongoing)
Ai no Jidai - Indigo period
Book Works
Cosmo Special: (1988). Burning Blood (1996, artbook) Saint Seiya Encyclopedia (2001, Artbook and character data collection) Saint Seiya Sora Kurumada Masami Illustrations (2004, Artbook and issues data collection) Raimei-ni Kike (Listen in the Lightning, 2006), Kurumada best and bound (2014, 2. vol.), Saint Seiya 30th (2016)
Trivia
Community content is available under
CC-BY-SA
unless otherwise noted.