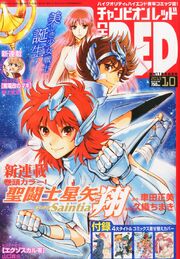 Saint Seiya: Saintia Shō
(聖闘士星矢 セインティア翔) is a new spin-off of Saint Seiya, and it's written and illustrated by Chimaki Kuori, which is based on the original work of Masami Kurumada. The manga is publish in Red Magazine. The story takes place after the defeat of
Gemini Saga
.
Notes
In Saintia Shō appear some the Saint Seiya Next Dimension characters. An obvious link between these manga.
Plot
After the defeat of Gemini Saga, the Sanctuary faces a new threat known as Eris, the Goddess of Discord and Chaos, with her minions, the Dryades. In order to combat such threat, a special class of female Saints, known as the Saintias, steps forwards in order to protect their patroness, the goddess of justice, wisdom, and hope, Athena, in her present reincarnation, Saori Kido.
Community content is available under
CC-BY-SA
unless otherwise noted.