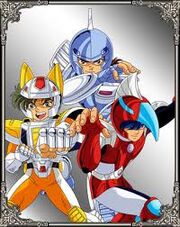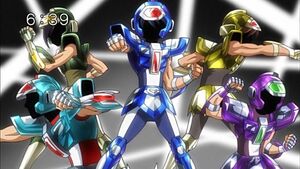 The
Steel Saints
are saints wearing armors created by
Dr. Asamori
(supported in the beginning by
Mitsumasa Kido
). Unlike the other Saints, the Steel Saints' powers come from their robotic armors and not from the
Cosmos
. They only appear on the
Silver Saint Arc
, and before the
Bronze Saints
travel to the
Sanctuary
in Greece.
In Saint Seiya Omega the Steel Saints are depicted as young humans whose power seems to come from a combination of both their artificial cloths and unmastered Cosmos. They also have hopes of earning real Cloths in order to become official Saints. These simplified, mass-produced versions of the Steel Cloths are all identical in design, only differing by colors and minor gender-based details. Although they allow a normal human to enter battle alongside genuine Saints, they are significantly weaker than the original Steel Cloths. Due to this, they typically serve as infantry roles to aid Saints in battle, unable to defeat an opponent themselves. Later on, former Bronze Saints Lionet Ban, Wolf Nachi, Bear Geki and Unicorn Jabu don customized Steel cloths modelled after their Bronze cloths, which have since been passed onto a new generation of saints. They are eventually joined in battle by the original Steel Saints.
21st Century (Omega Era)
Legendary Steel Saints
20th Century (Classic Era)
Gallery
</gallery>
Community content is available under
CC-BY-SA
unless otherwise noted.